Amazon Announces New Echo Devices—Add Alexa to Every Room and Your Car
Amazon
introduced a new line-up of Echo devices, Echo companion devices, and
Amazon
smart home devices, making it even easier to bring the features and convenience of Alexa to any room and now, to the car.
New Echo devices include:
All-new Echo Dot

: The easiest way to bring Alexa into your home, now with a new speaker for louder and crisper sound, an updated fabric design, and still only $49.99

All-new Echo Plus

: A simple way to start your smart home with a built-in Zigbee hub, plus an upgraded speaker and a new design, and still only $149.99
All-new Echo Show: An all-new design, upgraded speaker, a stunning 10-inch HD display, and a built-in smart home hub, plus all the glanceable features customers love about Alexa for $229.99. Read the press release: www.amazon.com/pr.

Echo Auto

: Bring the power of Alexa to your car, now available by invitation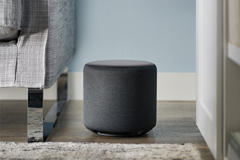 New Echo companion devices include:
Echo Wall Clock: Connects to your Echo device to visually enhance timers, alarms and reminders for $29.99

Echo Input

: Add Alexa to your existing speaker for $34.99
Echo Sub: Add deep, rich bass to music playback on Echo devices for $129.99
Echo Link: Connects to your home stereo system to stream high-fidelity music for $199.99

Echo Link Amp

: A 60W, 2-channel built-in amplifier to stream high-fidelity music to active or passive speakers for $299.99
New smart home devices include:
AmazonBasics Microwave

: A compact countertop microwave that connects to your Echo device to make cooking easier for $59.99

Amazon Smart Plug

: Control compatible lights, fans, coffee makers, and more for $24.99
"We want you to have access to Alexa everywhere—in your kitchen, in your living room, in your office, and now in your car or truck," said
Tom Taylor
, Senior Vice President, Amazon Alexa. "Today, we're excited to expand the number of ways that customers can add Alexa to their homes and their vehicles, so they can use Alexa to make their lives more convenient and easy—whether it's asking for the traffic on your drive home, checking your email in the morning, or simply saying 'Alexa, good night' to turn off your lights and lock your door."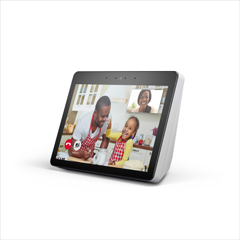 New Echo Devices—Access Alexa Everywhere in Your Home and Your Car
All-New Echo Dot—Now with a New Design and More Powerful Sound—Still Just $49.99
The next-generation Echo Dot (
amazon.com/echodot
) features a new fabric design and more powerful sound—and it is still the best way to add Alexa to any room. With an all-new curved shape and fabric finish, Echo Dot is available in Charcoal,
Heather Gray
, and Sandstone, letting customers easily mix and match. The new Echo Dot plays music louder with richer sound, all in a compact design. Put an Echo Dot in every room to ask for information or the weather, play your favorite music in a multi-room music grouping, set timers and alarms, and control compatible smart home devices.
All-New Echo Plus—New Design, Upgraded Sound, Built-In Smart Home Hub and More Ways to Control Your Smart Home—Still Just $149.99
With its built-in Zigbee smart home hub, the all-new Echo Plus (
amazon.com/echoplus
) makes setting up compatible smart home devices easy. Just say, "Alexa, discover my devices," and Echo Plus will automatically discover and setup compatible lights, locks, sensors, plugs, switches, and more without the need for additional hubs or apps. Echo Plus now includes an embedded temperature sensor, so you can set temperature-based routines using other smart home devices. For example, when the living room reaches 80 degrees, Alexa can send a notification to your phone and turn on a connected fan.
With Wi-Fi simple setup, you can automatically connect compatible smart devices to your Wi-Fi network and Alexa in a few easy steps. All you need to do is power on the smart device and it will recognize and connect your device to your Wi-Fi network using a Wi-Fi password that you have saved in your Wi-Fi Locker. Wi-Fi simple setup is available with new Echo devices, the new Amazon Smart Plug, and the AmazonBasics Microwave.
Echo Plus has a larger 3" neodymium woofer and increased back volume so that the bass feels stronger and the mids and highs are clearer. It also features an all-new fabric design and is available in Charcoal,
Heather Gray
, and Sandstone.
Echo Auto—Available by Invitation for a Special Price of $24.99
Echo Auto (
amazon.com/echoauto
) is an easy and affordable way to add the power of Alexa to your car or truck. With an eight-microphone array designed for in-car acoustics and speech recognition technology, Echo Auto lets Alexa hear you over music, A/C, and road noise. The device is powered by your car's 12V power outlet or USB port, and connects to your stereo system through a 3.5 mm audio jack or Bluetooth connection. It connects to Alexa through the Alexa app on your smartphone and uses your existing phone plan to access a range of features such as music, navigation, calling, and more.
With Echo Auto in your car or truck, just ask Alexa to hear your morning news, listen to an Audible book on your commute, get the latest traffic updates, and more. You can also set a routine that turns on your lights when you pull into the driveway, set reminders to pick up your dry cleaning, add errands to your to-do list and check them off when they're complete, build your shopping list or manage your calendar—all while your eyes stay on the road.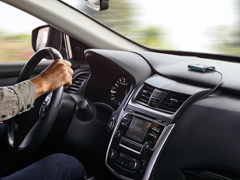 Echo Companion Devices—Enhance your Experience with Alexa
Echo Wall Clock – See Timers at a Glance—Just $29.99
Echo Wall Clock
(
amazon.com/echowallclock
) helps keep you and your family organized at home. Use your voice to start a timer with your compatible Echo device and easily see how much time is remaining on your clock. The 60 LED ring can display multiple timers for cooking, countdown to a family event, and show visual animations for alarms and reminders to keep you on schedule. The 10-inch battery powered clock connects to your Echo via Bluetooth, automatically syncs to the correct time, and is a perfect companion for the kitchen, family room, home office, or any room in your home with a compatible Echo device.
Echo Input—Add Alexa to your own Speaker—Just $34.99
Echo Input (
amazon.com/echoinput
) lets you add Alexa to your existing speaker. Echo Input connects to your speaker through a 3.5mm audio cable or Bluetooth, and features a four-microphone array so you can talk to Alexa from across the room. Echo Input is just 12.5mm tall, so it blends easily into every room. Unlike Echo Dot which has a built-in speaker, all audio is played through the connected speaker rather than through Echo Input itself. When connected to Echo Input, your speaker can be added to a new or existing multi-room music group. Echo Input will be available in black and white.
Echo Sub—Powerful Subwoofer for your Echo—Just $129.99
Echo Sub
(
amazon.com/echosub
) is the first wireless Echo subwoofer for those who want to pump up the bass when listening to music on their existing or new Echo devices. You can connect
Echo Sub
to compatible Echo devices to create a 1.1 or 2.1 pairing for stereo sound. Plus, with the equalizer feature you can adjust the bass, mid-range, and treble of the pairing simply by using your voice. Just say, "Alexa, turn up the bass."
Echo Link and Echo Link Amp—Stream High-Fidelity Music to your Speakers or Stereo System —Just $199.99 and $299.99
Echo Link
is an audio component that connects to your high-fidelity stereo system to stream music services.
Echo Link
includes analog, optical, coax, headphone 3.5mm, and subwoofer line-outs; and analog, optical, and coax line-ins. It has a volume knob for granular control, an Ethernet port for reliable connectivity, and support for multi-room music through Alexa.
Echo Link Amp is
Echo Link
with a built-in 60W, 2-channel amplifier. Additionally it has left-right speaker binding post outputs to support wiring directly to passive and non-powered speakers.
Both
Echo Link
and Echo Link Amp can be controlled through the Alexa app or another Echo device in your home. Simply say, "Alexa, turn up the music in the living room," to listen to tunes through your existing stereo system.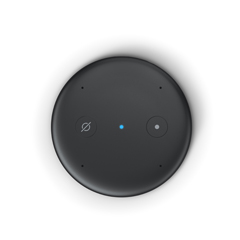 AmazonBasics Microwave—Now Simply Ask Alexa to Start Cooking—Just $59.99
The AmazonBasics Microwave (
amazon.com/amazonbasicsmicrowave
) is a compact countertop microwave that connects to your Echo device and makes cooking easier by integrating the simplicity and convenience of voice. Features include:
Cook with your voice: With AmazonBasics Microwave, ask Alexa to reheat, defrost, or microwave for your desired cook time and power level. Plus, use a variety of quick-cook voice presets such as, "Alexa, microwave two potatoes" or "Alexa, reheat a cup of coffee" and the AmazonBasics Microwave takes care of the rest. Since Alexa is always getting smarter, new quick-cook voice presets will be added regularly.
Never run out of popcorn: Now you don't have to keep track of how much popcorn is in your pantry or worry about running out for family movie night. AmazonBasics Microwave is integrated with Amazon Dash Replenishment and with the Auto Popcorn Replenishment feature, can automatically reorder popcorn before you run out.
The "Ask Alexa" button: When the built-in Ask Alexa button is pressed, your paired Echo device wakes up and will begin listening for a microwave command. Simply press and say "two minutes and 30 seconds on medium" and AmazonBasics Microwave starts cooking. With the Ask Alexa button, there's no need to say "Alexa" or "microwave."
In addition to offering customers a simpler way to cook, the AmazonBasics Microwave demonstrates how other device makers can use the Alexa Connect Kit to create smart home devices. The AmazonBasics Microwave is the first device built using Alexa Connect Kit and highlights how device makers can quickly and easily build smart devices with features and services customers want. The Alexa Connect Kit enables device makers to create high-quality, Alexa-connected devices easily, quickly, and economically, without managing cloud services or complicated firmware. Learn more about Alexa Connect Kit:
www.developer.amazon.com
.
Amazon Smart Plug—Just $24.99
With the Amazon Smart Plug (
amazon.com/amazonsmartplug
), use your voice to control your lights, fans, coffee maker, and more. The Amazon Smart Plug is the first Wi-Fi smart plug to use Wi-Fi simple setup, making it easy to start – and expand – your smart home with connected devices. All you need is a compatible Alexa-enabled device like Echo, Fire TV, Fire tablet, Sonos One, or even just the Alexa app on your phone to get started. From there, easily set a routine that turns your lights on at
6:00am
and your lights off at
10:00pm
; and with multiple Amazon Smart Plugs, you can control multiple outlets.
Echo Dot, Echo Plus, and
Echo Sub
are available for pre-order starting today and will start shipping next month. Echo Auto is available by invitation and will start shipping later this year.
Echo Wall Clock
, Echo Input, and
Echo Link
will be available later this year, and Echo Link Amp will be available in early 2019. Customers can sign up today to be notified when they are available.
AmazonBasics Microwave is available for pre-order starting today and will start shipping later this year. Amazon Smart Plug is available for pre-order starting today and will start shipping next month.
The new devices announced today join the all-new
Echo Show
, Echo, and Echo Spot to create the Echo family of devices.
Amazon
also introduced new Alexa features that will roll out to Echo devices in the coming weeks.
Echo Link
, Echo Link Amp, and
Echo Wall Clock
have not been authorized as required by the rules of the
Federal Communications Commission
. These devices are not, and may not be, offered for sale or lease, or sold or leased, until authorization is obtained.